International WhatsApp Marketing
Send thousand of WhatsApp per day.
Get best international bulk whatsapp service through AIS provider  ( virtual number whatsapp as well as personal number software )
Let's see what you will get
Unlimited Text ( Character )
Send unlimited text content in whatsapp messages.
Send 4 images along with text content file limit 1mb.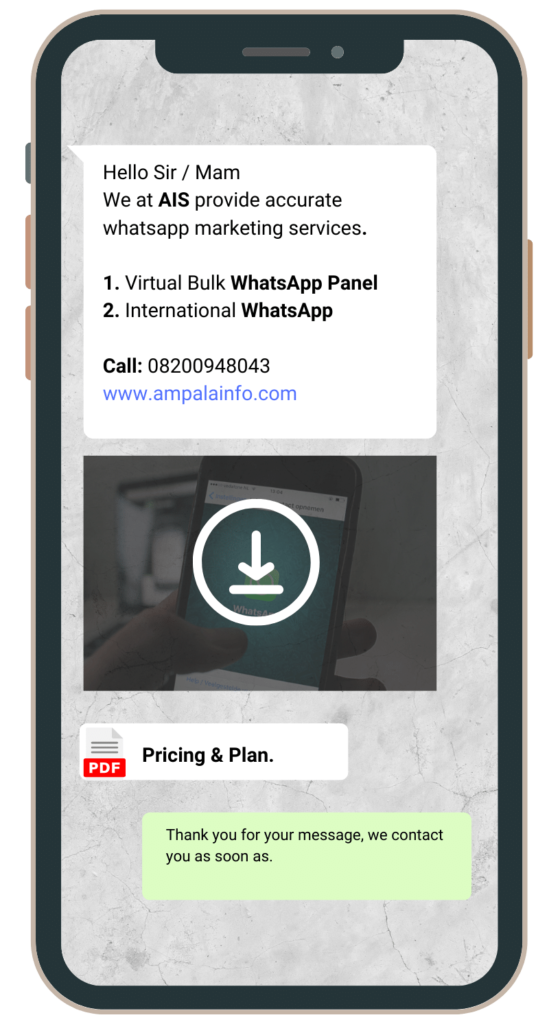 Send 1 video  along with text content and images, video file limit should be 3 mb.
Send 1 pdf brochure with text video and images, pdf file limit 1mb.
Best International bulk whatsapp marketing service
Ampala International Whatsapp marketing service provide has two types of whatsapp system, one is one way communication system and other one is two way communication.
Send through virtual numbers.
One Way Communication International WhatsApp
In One-way International WhatsApp communication system used to promote brands, like malls, stores, shop or any information,  one way WhatsApp have unique virtual numbers so that each and every customer received your message via unique virtual numbers, you can not receive any replies from the customers.
Send through personal numbers.
Two Way Communication Bulk WhatsApp marketing vadodara
In Two way bulk whatsapp communication service, you can send whatsapp messages via your numbers and get replies from customers to your number
Let's connect with each other
WhatsApp us for more information.
Comparison in One Way or Two Way Communication Bulk Whatsapp
One Way Communication ( Risk FREE )
You should have to purchase credits of international whatsapp.
No Limitation of sending ( you can send daily thousands of whatsapp messages on thousands of contact
No require personal number ( because of international virtual  already installed  with web application
You can send 4 images 1 video or  pdf at a time.
You can't able to receive replies  from your customers because of one way system, you are able to send information ( Note : For response you have to add your contact details in content.
You will get reports of sent whatsapp, non-whatsapp, un delivered  users.
Two Way Communication ( On Risk )
No need purchase credits of international whatsapp.
Limitation of sending ( you can send daily  100 or more Number of whatsapp  messages to your contact by your risk  )
Require personal number ( High Risk Of whatsapp banned issue )
You can send Unlimited images, video or  pdf at a time.
You will get  replies  from your audience because of two way system
You will get reports of sent whatsapp, non-whatsapp, un delivered  users 
Get best international bulk whatsapp marketing service with so many features.
No need to send with your number, their is inbuild lot's of virtual number
No need to worried about banned 
4 image 1 Video 1 PDF
Accurate Report, who received or not, 
Non-Whatsapp report
Credit Refund features 
In this system, you need to buy credits of whatsapp
No limit to sending ( Unlimited )
For Response you need to mention your contact details in your message
In Personal Whatsapp marketing service, you will get software
You need to scan your web whatsapp with software
Send via your number and receive replies on your number
Unlimited image, Video, Pdf
Number Banned Risk High
Daily limit to send with 1 Number is 350 to 400
Whatsapp number filter
Free Updates
No need to buy credits
Ampala provides chat bot and API system to integrate into existing running web application or software, whether you want to share bill copy or brochure directly to your customer.
Also when someone visits your website and at that time enter WhatsApp mobile number in given form then chat bot automatically send message through WhatsApp.