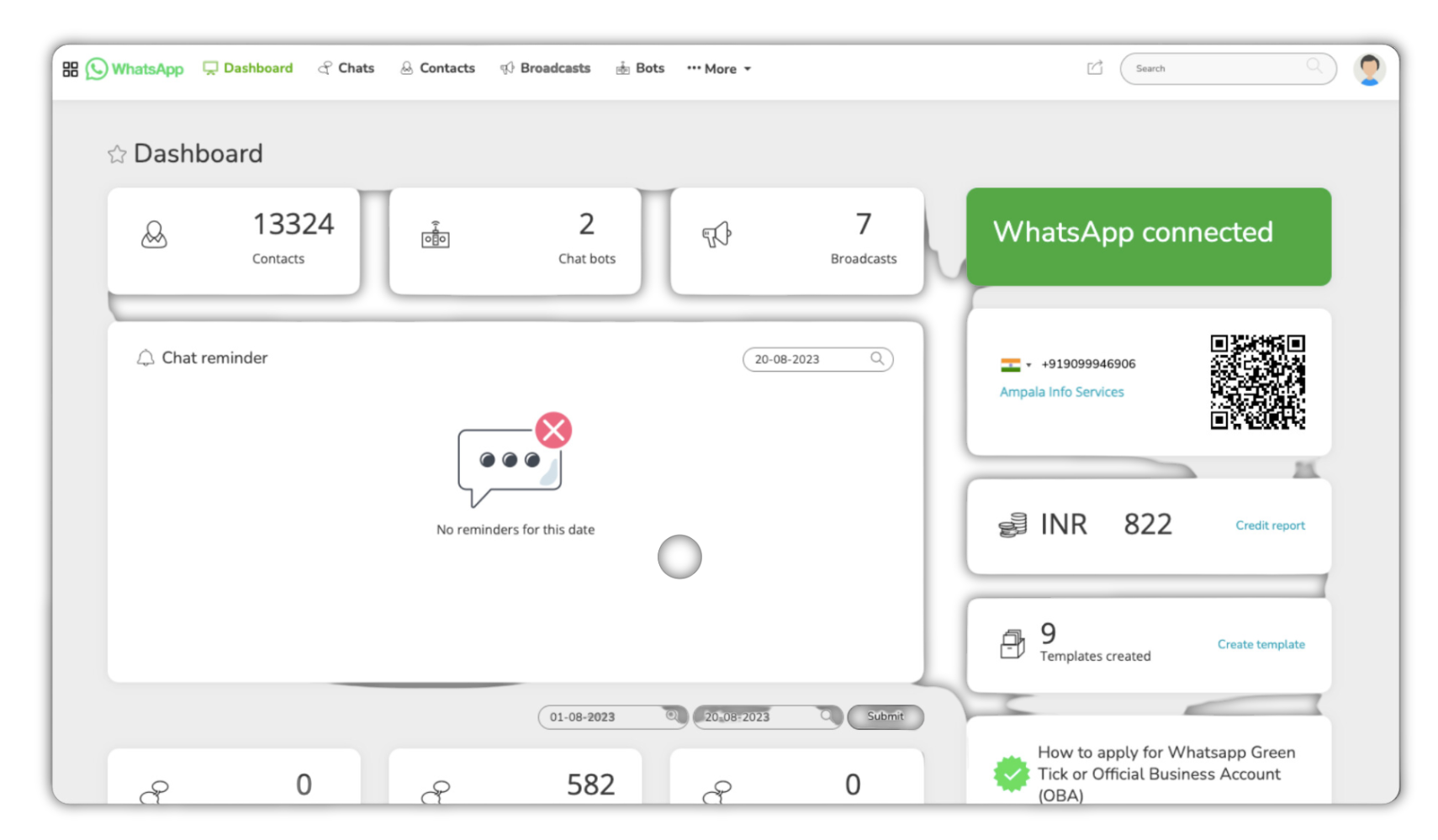 Official Business WhatsApp API Marketing Solution
Business whatsapp api service provider in malaysia
Are you worried about to send lakhs of messages on whatsapp ? Don't worry here we at AIS bulk business whatsapp api marketing service provider in malaysia provide all types of WP marketing solution.
All In One WhatsApp Marketing Solution
Welcome to AIS, a premier Official Business whatsapp  API and whatsapp sender company located in Ahmedabad. As the world's largest instant messaging platform, WhatsApp API has become a crucial tool for businesses looking to reach their customers. Our company specializes in providing innovative solutions to help businesses effectively engage and communicate with their target audience through WhatsApp. We are proud to offer a "Official Business WhatsApp API Sender" and "WhatsApp Software Provider" that delivers unparalleled results. Whether you are looking to send large numbers of messages in an automated and efficient manner, or manage all your WhatsApp communication from a single platform, we have the solution for you. With our cutting-edge technology and exceptional customer service, we are dedicated to helping businesses succeed in the digital world.
Green Tick Verified Official Business WhatsApp API
Bulk WhatsApp Sender Provider in Ahmedabad
Official Verified Green Tick Whatsapp allows you to manage existing customer with chat bot and broadcast messages without getting banned.
Official Business WhatsApp API Provider In Ahmedabad
Integrate Whatsapp api and send pdf, image automatically through your CRM or web application, Ampala provides chat bot and API system to integrate into existing running web application or software, whether you want to share bill copy or brochure directly to your customer.
Also when someone visits your website and at that time enter WhatsApp mobile number in given form then chat bot automatically send message through WhatsApp.
Send your promotion and transactional message.
Upload Excel as well as manually copy past
Chat with customer through Ampala CRM and Mobile App
Build Chatbot with the help of drag and drop
Set Customer followup reminder with each track record
Connect Existing System With WhatsApp API
Download all chat replies of customers.
Create Multi User and assign chat department wise
Summery and all conversation reports are accessible
We Customize CRM according business's need
With Access AIS CRM you can manage your lead, invoice.
Our dedicated team are available to help you on call.
In today's digital age, seamless and efficient communication is paramount for businesses looking to connect with their customers and clients. As WhatsApp, one of the world's most popular messaging platforms, has evolved from a simple chat application into a powerful tool for business communication. Growing Business and People-to-People Through WhatsApp For businesses, WhatsApp API service providers are paving the way for enterprises to harness the full potential of this messaging platform.
As the business landscape evolves, so do the expectations of customers and clients. They want instant, personalized and convenient communication with brands and services they trust. We, through WhatsApp API, with our global reach and user-friendly interface, are an ideal solution for businesses to meet these demands.
We provide a bridge between WhatsApp API service provider businesses in Malaysia and this powerful communication channel. As such, Ampla facilitates a variety of services that empower businesses to connect with their audiences effectively. Here's how these service providers are changing the Malaysian business landscape:
Empala WhatsApp API service providers provide businesses with a seamless way to communicate with customers and clients. We enable businesses to manage and maintain WhatsApp communications from one centralized platform, making it easy to respond to inquiries, provide support, and engage in meaningful conversations.
We allow highly personalized interactions. With WhatsApp, businesses can send customized messages, reply with tailored responses, and engage in one-on-one conversations that build trust and loyalty.
At Ampala WhatsApp API service providers in Malaysia enable automation through the integration of chatbots and AI-powered responses. This not only increases the efficiency of customer service but also ensures 24/7 availability, which is a key feature in the digital age.